How to Select a Diaper for a Petite Woman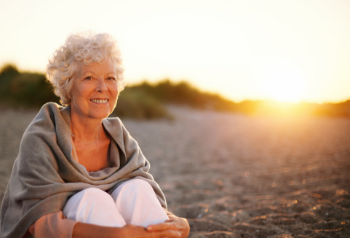 Did you know that a female's height becomes gradually shorter with age? Intervertebral discs become narrower over time and the emergence of osteoporosis are two of the main causes for this to happen. Petite women face some challenges which include selecting the appropriate adult diaper. If you're looking for a diaper for a loved one who is petite be sure to remember these tips when selecting a diaper for her.
Tips for Selecting an Adult Diaper for a Petite Woman
1. Accurate hip/waist measurement is necessary - Diapers whether they be pull-on underwear or fitted briefs come up or over the abdomen. If you're looking for a fitted brief (adult diaper with tabs) you don't want too much material to sit at her abdomen. This can cause bunching or an uncomfortable fit where the product comes further up below the breasts.
Women come in all shapes and sizes, the same goes for diaper sizes. A small in the Depend brand does not equal a small in Tena. Each diaper is manufactured differently so it's important to measure her waist and hips properly and see how her body fits in the diaper. Elderly women sometimes have tummy or skin folds, make sure to properly measure these areas to get the best fit.
Pull-on underwear has elastic in the waistband and will stretch over any areas of the stomach. Most fitted briefs in the industry do not have elastic (NorthShore™ will soon offer some fitted briefs with elastic so keep a lookout). Make sure that you're measuring her widest part (hip) as well as her narrowest part (waist). Use the two numbers to find the size that you're looking for and plug them into the size chart for the appropriate diaper brand.
For example, a woman that has a 24-inch waist and a 28-inch hip will be small in the most popular women's pull-on, Molicare Mobile Underwear. This is because both numbers fall into the range for a small size pull-on.
2. Pay attention to her thighs - Some women have thinner legs, some have thicker legs. Wearing a diaper can cause irritation or chaffing within the thigh area so make sure you select the appropriate style diaper for her. Selecting the wrong size fitted briefs may cause chaffing for women with thicker thighs. Pull-on style underwear does not have the same fit as fitted briefs so these may be the better option for women with thicker legs.
3. Clothing Style Matters - If her preferred type of clothing includes slacks, shorts and other mobile-friendly clothing she will most likely benefit from feel and style of pull-on underwear since this resembles regular underwear. Women who wear mobile friendly clothing will want a more discreet product like the pull-on style diaper. Other popular women's pull-on underwear include NorthShore FlexSupreme™ Pull-On Underwear and Tranquility Overnight Pull-Ons.
4. Pay attention to her bathroom - Are there little dribbles on the seat of the toilet? If there are signs of urine or fecal matter on the top of the toilet seat, this could be an indicator that she is having trouble getting on and off the toilet and may need help in the washroom. If she cannot position herself on the toilet then she may have trouble keeping balance while using disposable underwear. Check her range of motion and if she is having trouble pulling up her underwear then she may need someone to help her and use a fitted brief.
5. Add a booster pad to her undergarment - Some women insert a booster pad in their disposable undergarment to provide a "cushion" that helps them feel more secure. Without the booster pad, some women feel like there is empty space between their body and the diaper, leading women to think leaks may occur. Encourage booster pads not only for preventative leakage protection but also for peace of mind.
6. Be respectful of her feelings - Transitioning into adult diapers is a difficult time for many women. Help her feel comfortable during this time. Encourage her to try samples of products and observe her emotions, listen to her feedback. Put yourself in her shoes. Individuals who wear absorbent products want to be confident and comfortable so make sure to gauge her feelings during the process.
Whether you're helping your grandmother, aunt, mother, or friend know that there are products that can help during their incontinence. It may take some trial and error finding the right diaper, but it is achievable. The tips above are from real customers and our knowledge of products, so use them with your family. Let's make sure the women in our lives are comfortable and protected.