Sani-Pant Waterproof Diaper Covers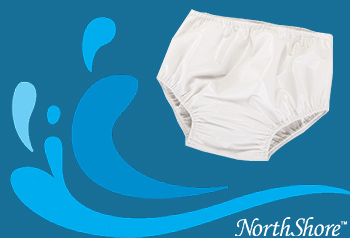 Sani-Pant One-Piece Waterproof Cover-Up by Salk is a popular 100 percent waterproof pull-on style diaper cover designed to prevent leaks onto furniture and clothing. Sani Pant has no absorption properties but is worn with an absorbent product such as... pads, liners, or disposable diapers to hold them in place and prevent any leaking.
Sani-Pants are made of soft, plastic-coated polyester fabric with soft cotton binding around the waist and leg elastic that won't chafe or irritate your skin. Pull-On Sani Pants are very durable and able to withstand repeated washings, and you can even use a color-safe bleach and fabric softener.
Purchase the Sani-Pant Pull-On Cover-Up Here
Includes the following features:
Trimmer Fit: Designed for use over disposable absorbent products, not cloth diapers.

Superior Comfort: Soft cotton bindings around waist and leg elastics.

Multiple Sizes: Available in sizes Small - 2X-Large

Made in the USA: By Salk Inc., a leader in reusable incontinence products.