Try Before You Buy: Samples of Incontinence Products from NorthShore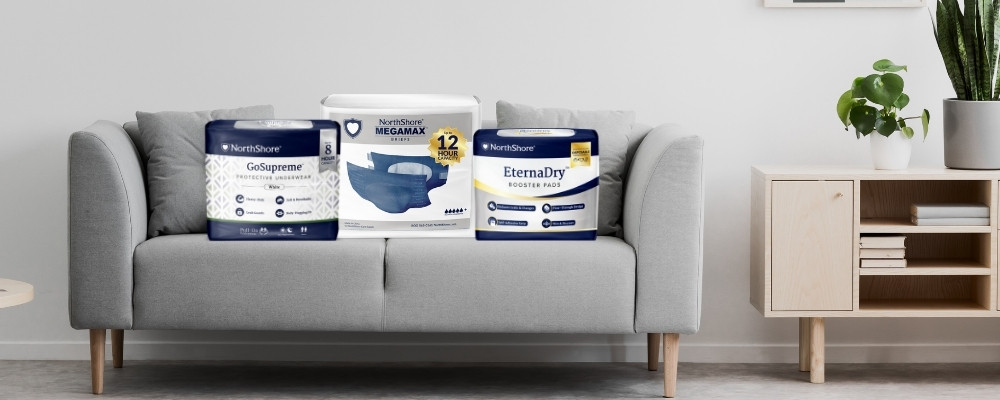 Millions of Americans experience incontinence, yet not all of them do something to manage it. That may be due to fear of stigma, inability to speak to a doctor, or being unaware of incontinence products that can help.

Those managing incontinence, as well as family members and professional caregivers, use NorthShore Care Supply's sample program to identify the best supplies for their needs without committing to a full package of product.
The ability to test incontinence supplies before buying helps ensure that items fit correctly and comfortably while providing the needed absorbency and incontinence protection.
Discover how to sample incontinence supplies from NorthShore by completing the Sample Request Form
Why Does NorthShore Offer Samples?
NorthShore Care Supply's goal is to end the stigma for the 80 million Americans experiencing any type of bowel or urinary incontinence. "Try before you buy" adult diapers, pads, liners and other supplies is a cornerstone of our mission to help people managing incontinence live their best life without worrying about leaks.
We know that not all incontinence products are created equal—NorthShore's products are reassuringly strong with up to 3x the leak protection of leading store brands. Since we started in 2002, we've helped more than 2.5 million people manage heavy and moderate to total incontinence.
Samples are available not only to new customers but also to existing customers who would like to test out different products, styles, absorbencies, odor control and/or styles as their needs change over time. (exclusions may apply).
Which Complimentary Incontinence Products Are Available?
NorthShore's wide array of highly absorbent products help keep wearers comfortable and dry. In the sample request form, select from the following products:
Tab-Style Briefs

Pull-On Underwear

Pads, Liners & Guards

Disposable Underpads/Bed Pads

Personal Cleansing Wipes

Other Products (Specify in Comments)
Before ordering incontinence product samples, take a look at the NorthShore Product Brochure to see our complete product offering. When ready to place a sample or regular order, make sure to have waist and hip measurements handy. Read our Getting the Best Fit and Measuring for Adult Incontinence Products blog for helpful information and a measuring guide.
On the sample request form, simply select the type of product you want to sample and the wearer's waist size. If you want to test a specific NorthShore product, add that in the comments field (exclusions may apply).
NorthShore wants to ensure that those who need incontinence products and supplies can get them quickly and discreetly. You'll receive an email from us right away to let you know we're working on your request, and another notification when your order ships.
Products arrive via FedEx in unmarked boxes. You can also choose a FedEx "Hold at Location" for pickup for more privacy.
What If I Need Lots of Adult Diapers?
Sample products of incontinence supplies from NorthShore can help you identify what works best for your needs. For those who need financial assistance or adult diapers, there are diaper banks throughout the U.S.

The Simon Foundation for Continence offers a directory of U.S. diaper banks for adult absorbent products and other resources. The page also offers links to coupons for adult diapers and incontinence products as well as other ways to save and reduce costs.
NorthShore offers free ground shipping in the contiguous U.S. on all subsequent orders $149+, as well as an additional 5% savings when you enroll in Auto-Ship & Save!
How Do I Receive Samples from NorthShore?
To find the best incontinence products for your needs, request free samples today. Fill out a few quick questions and we'll get to work right away. If you have any questions, call our kind and caring Customer Service team at (800) 563-0161.
Shop Premium Incontinence Products
Please login to access your saved items list. If you don't have an account, create one today to start your list.