Two Briefs You Should Know About: NorthShore AirSupreme vs Supreme
With so many adult tab-style briefs in today's market, it can be difficult for one to decide which one to choose. At NorthShore Care Supply we carry a wide variety of different tab-style briefs and each one could vary in terms of absorbency, fit or sizing. It's important that you or your loved ones are using the best product available to help protect against leakage. We would like to discuss with you two of our top selling briefs called the NorthShore™ AirSupreme™ and NorthShore™ Supreme brief. Whether you have a preferred brief or are still looking for that one product, we want to let you know the unique features of each brief so you can decide if this may be the diaper for you.
NorthShore® AirSupreme™ Briefs Features:
✔ Quiet cloth-like backing (exterior)
✔ Hook and tape tabs allow for easy refastening and adjusting
✔ Breathable backing for better airflow to the skin

NorthShore® Supreme Briefs Features:
✔ Smooth plastic exterior...resists sagging from heavy voids
✔ Prevent odors from escaping out of the brief
✔ Ideal for those managing any form of bowel incontinence such as Irritable Bowel Syndrome (IBS), IBD (Irritable Bowel Disease), Crohn's Disease, and others.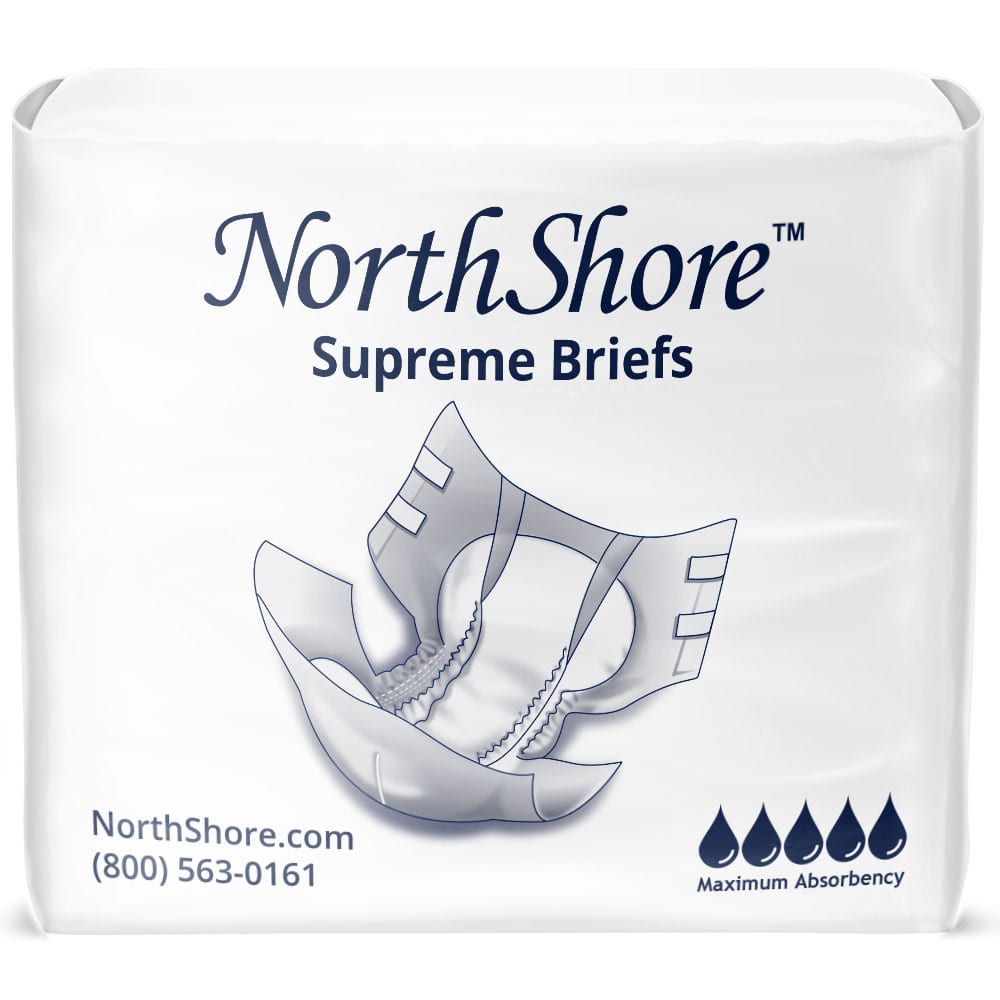 Common Features in Both Products:
✔ Available in sizes ranging XS-XL
✔ Holds anywhere from 20oz-40oz (depending on size)
✔ Ideal for individuals managing urinary or bowel incontinence
✔ Great for day or night use
✔ Easy to read wetness Indicator listed on the backing
✔ Extra wide protection in front and rear to provide maximum protection
✔ Soft quick-drying top sheet that wicks moisture away from the skin
✔ Tall stand-up leak guards to provide protection against side leaks
✔ Latex-free and waterproof
Finding the best product for your needs can be difficult. However, the more information you have, the better your chances are of finding one that works for your needs. Our NorthShore® AirSupreme™ works well for someone managing urinary incontinence. If bowel containment is the main concern the NorthShore Supreme briefs may be a better option for you. The Supreme's unique plastic back sheet keeps odors inside helping those looking for a better odor containing diaper.
If you would like a sample of the products mentioned in this blog please contact us at (800) 563-0161 or fill out our online sample form.
Please login to access your saved items list. If you don't have an account, create one today to start your list.