New Pick up Option That'll Keep Your Packages Safe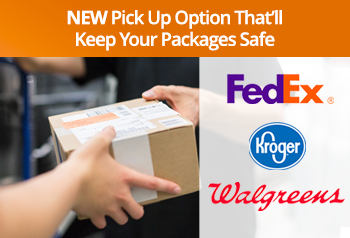 How often do you shop at Walgreens, Albertsons or Kroger? If you are at either of those stores frequently throughout the week then you may want to consider NorthShore's Fedex Hold-at-Location for your next order of incontinence supplies. The new shipping option allows you to pick up your orders at participating Walgreens, Krogers, Albertsons and FedEx ship centers in your area. All you have to do is place your order online as you normally would, mark the pickup location where you want to pick up the order and select your store.
The stores that qualify for pickup will be listed on the left side of the screen along with an interactive map where you can click on each store. Below is an example of what you'll see after you enter your zip code.
You'll need to indicate beforehand the individual who will pick up the order. We'll need the first and last name of the individual as well as a phone number. For security purposes, packages will only be given to individuals that present an ID that matches the full name on the order. For more information on the FedEx Hold-at-Location policy please click here.
Benefits to Fedex Hold-at-Location
Secure and confidential – You have full control of who can pick up your order. You or family members can pick up the order, but identification is required.

No added fees to use service- There are no extra fees to take advantage of this service. Simply pay the associated shipping fees with standard ground delivery and we'll handle the rest.

Orders are held up to 1 week- If you're unable to get the order the day it arrives, the store of your choice will hold the order for you for up to 1 week.
Now you can pick up your orders at your convenience. Next time you need to get meds for that pesky cold, zucchini for dinner this week, or more toiletries for the house, pick up your incontinence supplies too. The Fedex Hold-at-Location gives you the privacy and discretion you deserve. In 2019 we will be adding Walmart as a qualifying store where you can pick your products up, so stay tuned! Say goodbye to nosey neighbors touching your packages. End the watching game at the front door for the delivery man, you are now in full control of your packages. When will you start picking up your products?