Male Urinary Incontinence Fact Sheet by The Simon Foundation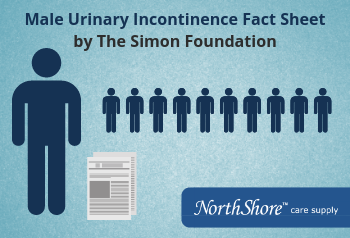 "Incontinence", "bladder leakage" "bladder problems" these can be difficult words to talk about with friends, family, and even healthcare professionals. It can be especially difficult for men to find sufficient information online regarding urinary incontinence, let alone find products to manage it. Fortunately, the Simon Foundation is one organization that is fighting to eliminate the stigma surrounding incontinence and providing help to people who are managing it.
The fact sheet below discusses the two major types of incontinence that affect men, the signs to look out for and preventative activities that can help along the way. Also included in the sheet are steps toward a healthy bladder and treatment options. Bottom line, the more information you have, the better decisions you will make. Incontinence doesn't have to be difficult to talk about anymore.
Read the full fact sheet on male urinary incontinence for more information.
For more information on the Simon Foundation go to https://simonfoundation.org
View our selection of Men's Incontinence Underwear & Guards