The Emergence of the Male Caregiver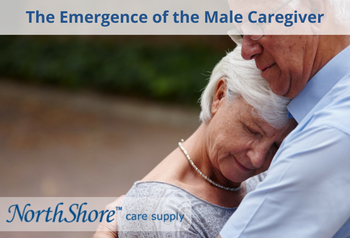 "I am not saddled with or burdened by the role of caregiver… I don't have to do the things I do. I get to do these things. Love dictates my choice. I chose to be husband. I choose to be dad," said by Ted Salwin, family caregiver, from The Mighty.
Even though caregiving has been traditionally a female role, more and more men are stepping up to care for their loved ones. The number of male caregivers has doubled in recent years, from 19% in 1996 to 40% today. Many changes have led to this increase including smaller families with more of the burden falling to sons, a tighter economy so that paid help is often out of reach, and a rise in dementia/Alzheimer's which affects more women leaving their husbands to take on caregiver roles.
The Differences with Male Caregivers
Many men, like many women, unexpectedly find themselves in caregiving roles. But since women traditionally take on nurturing roles throughout their lives, men can sometimes feel a little more unprepared than their female counterparts. Although there are many shared feelings between male and female caregivers a recent poll taken by AARP explored some of the differences.
The report which was based on focus groups around the country and found the following differences:

• Men reported being more uncomfortable with personal care such as helping with bathing and toileting.
• Men are less likely to ask for help or to talk to others when feeling stressed by caregiving responsibilities.
Support for Male Caregivers
Even though men are less likely to reach out many male caregivers are beginning to see the benefits of peer support. This kind of support is crucial to both men and women, but it just might look and feel a little different when geared toward men. One such group is called Jack's Caregiving Coalition. It was built on the notion that caregivers all too often get forgotten so the one thing that can help more than anything is to "serve the caregiver". One of the leaders, Kyle Woody, was shown this after his wife was diagnosed with cancer. One of his friends came over and said, "Kyle, I am here to serve you." And he spent the next week among other things, cleaning gutters and cutting grass. Kyle didn't even think of himself as a caregiver and especially didn't think he needed anything. After all, it was his wife that was sick. But after receiving such treatment he realized how important it was and wanted to pay his friend back for his selfless act of service and thus the spark that became Jack's Caregiving Coalition was ignited.

The other part of the story involves a couple of guys, Justin Nicoly and Dustin Cesarek, whose wives both had a terminal illness. They started meeting up at a local bar and instead of the usual guy talk, they started talking about some of the frustrations they were both feeling. They realized how much better they felt because of the support they got from each other. Soon they were organizing to help other men who found themselves in similar circumstances.
Once on Jack's Caregiving Coalition website, you know right away that this is a place for men to get the support they need.
From the lumberjack on their logo to the three main areas on the home page:

JACK-TO-JACK – When you need understanding from a guy who's been in your shoes.

JACK'S CREW – Volunteers help with things that still need to get done, from raking leaves to painting a shed.

RESPITE EVENTS – Self-care for men. These events include ice fishing, golfing, hunting, etc.
Self-Care for Male Caregivers
Even if there isn't a support group close by, male caregivers can benefit from keeping these simple things in mind:

• Make time for favorite activities with friends. Talking about frustrations can be helpful but if that isn't possible just getting out and being around people can boost caregiving stamina.

• Remember self-care can be as simple as taking a regularly scheduled walk or catching an occasional movie.


Although males handle caregiving differently, they still need the appropriate support and self-care needed to effectively care for their families. Whether it's a support group, a fishing trip, or a walk, male caregivers need to remember to take care of themselves first.