NorthShore's DoubleStop™ Guards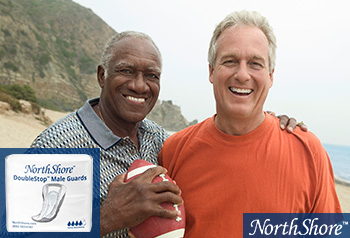 According to the Oxford Dictionary, the definition of a guard in its verb form is to watch over in order to protect or control. Like a goalie protects the goal from the opposing team in Soccer, male guards protect men's clothing during times of urinary leakage.

It seems like an obvious comparison, but the truth is that the act of protection is part of life more than we think.
Humans like to be protected, it's inherently part of who we are. We use hats to protect from harsh weather, and we use helmets to protect us during risky activities. Protection is so important for individuals managing incontinence. There are many different brands of male guards on the market, but not all of them are created equally. Some guards are not absorbent enough, some are not long enough, and some are just not comfortable to wear. NorthShore has recently created a new male guard that is changing the game and we want to discuss the benefits of this great product.
NorthShore decided to create its own guard to give customers a better quality guard because we heard some men want extra protection. The NorthShore® DoubleStop™ is the newest male guard on the site, and it offers the protection for a man's needs. This guard is like no other, so if you're looking for a new product…are new to this… or are just intrigued …. Keep on reading.
What Makes DoubleStop™ Male Guards Different?
Double core

Triangular shape helps with male anatomy preventing less bulkiness in the front

Odor-free

The most absorbent guard on the site - can hold up to 12 ounces

Adhesive strip fits secure in briefs

Soft backsheet
Who Should Try Our DoubleStop™ Guards?
Men that have light to moderate urinary leakage

Men who recently had prostate surgery

Men who want double, yet discreet protection

Men who are not happy with their current guards

Men who want to try a new guard
Does your husband, father, or uncle need more protection? Do you need more protection? Why not try the DoubleStop™ male guard? At the end of the day, we just want you with the best product available. Look for quality products with NorthShore. Give us a call today at (800) 563-0161 to request samples of our male guard.

We're always happy to help!