The Best Way to Budget and Save When Buying Adult Diapers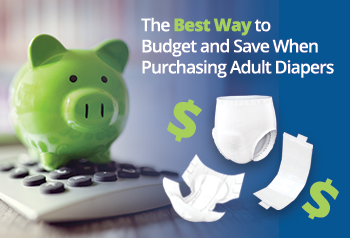 Imagine all the fun activities you could do if you could save money by using fewer adult diapers. We will show you how to calculate how many diapers to use, explain why it's better to use premium brands and a product that can help with additional savings! You don't need to be a math whiz to see how much you can save with these types of products.
How to Calculate Your Adult Diaper Quantity:
How many diapers am I needing to stay dry? Take notes on your usage and refer to these examples.
I need 1 diaper every hour to feel comfortable (dry and confident at home and outside) so I would probably need 8 diapers per day.

How many diapers do I need a week? Your number x 7

How many diapers do I need a month? Your number x 30
Once you have those numbers then you can find out how to budget for your monthly supply of diapers.
For example, if you need 6 diapers a day to stay comfortable and without leaks, then that means you will need around 42 diapers a week or 180 diapers a month (we're using a 30 day month in this example). When shopping for adult diapers, look at the package sizes offered, typically purchasing by the case will save you money, so try to order by the case when you can.
Consider Premium Adult Diaper Brands Over Drugstore Brands
We will give you a realistic example that shows how purchasing premium adult diaper brands is better than retail products.
Scenario A: A man with moderate urinary incontinence using pull-on style underwear for daytime usage.
Average retail brand: Depend Fit-Flex for Men** - Economy level men's incontinence underwear
Absorbency = 12 oz.
Size = Small/Medium
Average Case Price* = $76.99 /case of 76 diapers
**Depend Fit-Flex for men no longer offered on NorthShoreCare.com
Price per diaper = $1.01
Diapers per day = Approx. 8 diapers are needed for this individual's output based on his logs.
Approx. number of diapers needed per month = 240 diapers
Total price for a month (not including shipping costs) = this man would need to purchase 3 cases plus 1 extra pack to get to meet his required amount of diapers = $252.22
*Prices on NorthShoreCare.com at time of the article. Check the website for current prices.
Scenario B: A man who also has moderate urinary incontinence using premium pull-on style underwear.
Premium Diaper Brand: NorthShore™ GoSupreme™ Pull-On Underwear
Absorbency = 38 oz.
Size = Medium
Case price*= $74.99/case of 56 adult diapers
Pack price*= $20.75/pack of 14 boosters
Price per diaper = $1.34
Diapers per day = Approx. 4 diapers a day – (typically, products with more absorbency allow individuals to wear fewer diapers)
Diapers per month= 120
Total price for month (not including shipping costs) = 2 cases plus 1 pack = $170.73
Savings = $81.49
Other Ways to Save When Using Adult Diapers
Other ways you can save using adult diapers is by using booster pads known as diaper doublers.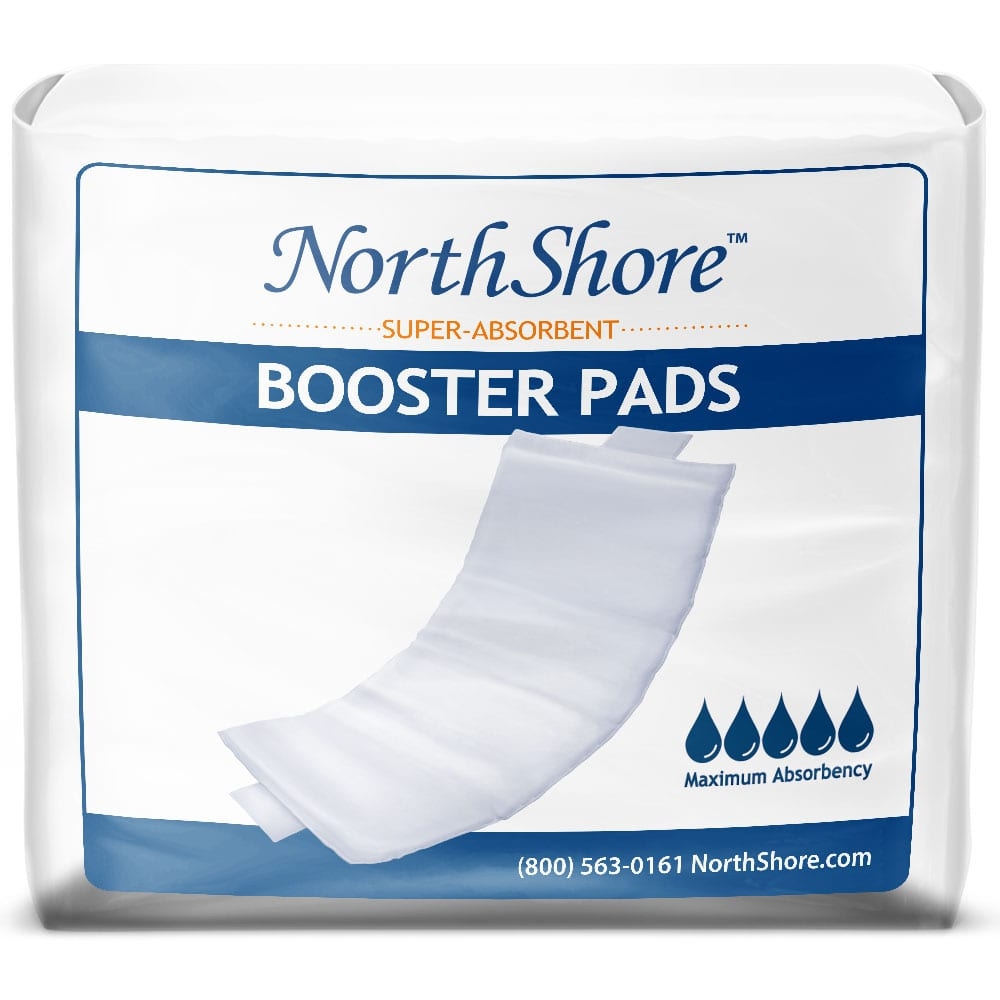 Booster pads can be doubled up and also extend the life of diapers. These fit inside any disposable product such as a pull-on or fitted brief. You may not need to use as many diapers when using booster pads. For individuals managing bowel incontinence, we recommend completely replacing your diapers as frequently as possible to avoid infections.
We do not recommend using popular pads like Poise or Tena Serenity Pads inside diapers or any other absorbent undergarment. While they may easy to find at drugstores and rather inexpensive, they are not designed to be used in diapers, they do not absorb much liquid and will end up costing you more in the long run.
If we use the same example above using the NorthShore™ GoSupreme™ Underwear with the most common booster pads by NorthShore, we see that we also save.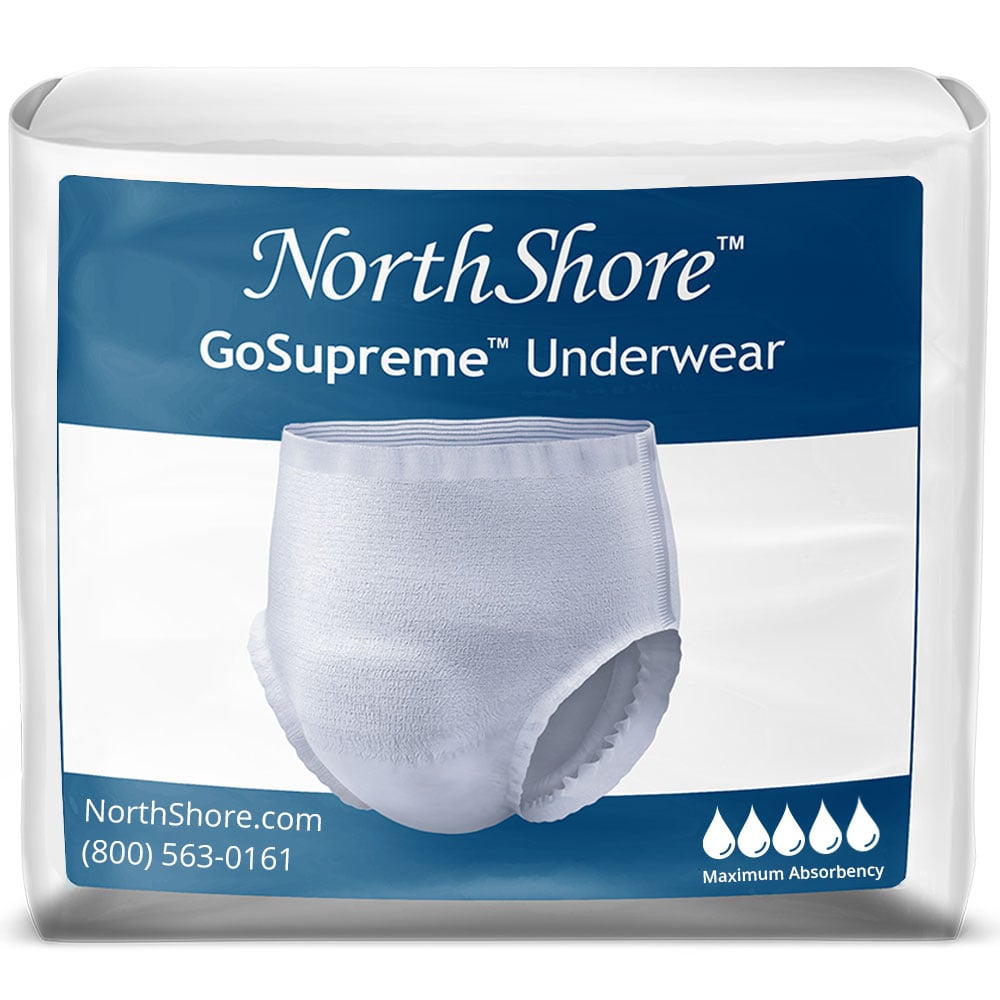 Diapers per day when using booster pads= approx. 3 diapers a day
Diapers per months= 90
Case price*= $74.99/case of 56 adult diapers
Pack price of NorthShore™ Booster Pads* = $13.50/pack of 30 boosters
Booster pad absorbency (medium size) = 18 oz.
*Prices on NorthShoreCare.com at time of the article. See website for current prices.
If you use 1 booster pad a day then you can get a pack for the month possibly saving you 1 extra diaper to use a day.
The total cost of diapers (not including shipping cost) = 2 cases of diapers plus 1 pack of boosters = $163.48
Are you using the correct number of diapers a month? Are you using the right brand of adult diapers? If you use premium diapers and include booster pads, you have the ability to save. What could you do with the savings per order? Go out to a nice dinner? Go shopping for yourself? Put towards a vacation later in the year? The options are endless.

To request sample of our booster pads of GoSupreme™ Underwear please call us at (800) 563-0161 or fill out or online request form! We're always happy to help!