NorthShore GoSupreme Pull-On Underwear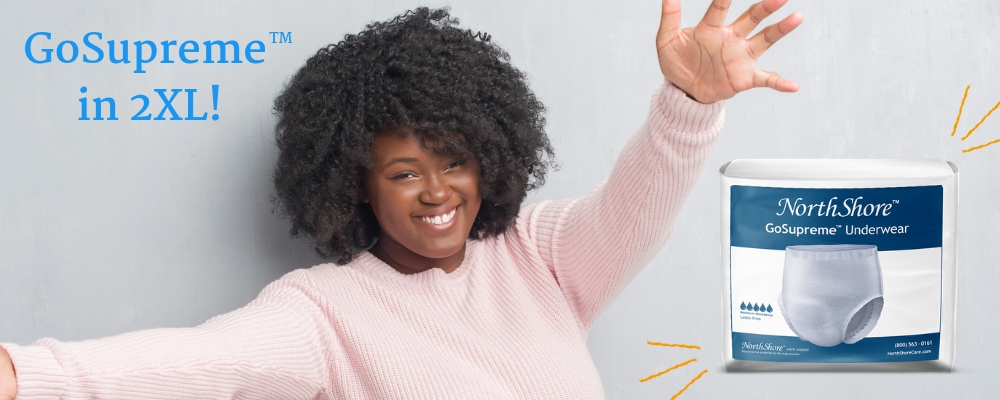 NorthShore® GoSupreme™ Underwear is the most absorbent pull-on style disposable undergarment in today's market and is a top seller here at NorthShore Care Supply. The GoSupreme™ works great for daytime or overnight use and comes in five sizes ranging from small to XXL.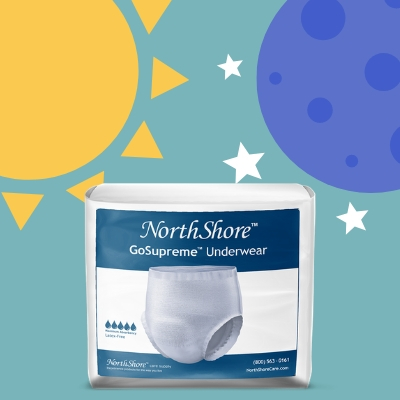 Our customers have expressed their concerns when trying to find a highly absorbent product for themselves or their loved ones needing bariatric sizes. We wanted to design a product that would compliment those with fuller figures who may have thinner legs while still remaining comfortable for others needing size XXL. Our NorthShore GoSupreme works well for someone who may be managing urinary or bowel incontinence.

We encourage our customers to take the current waist and hip measurements to ensure the appropriate size is ordered. Let our pull-on be your go-to product when searching for heavy protection during the day or night. Here are a few ways our newest pull-on could benefit you or your loved one.
✔ Compliments men/women with thinner legs
✔ New Size 2X-Large fits waists/hips up to 80 inches
✔ A comfortable waistband that prevents sagging for a body close fit
✔ Dual leak guards to help prevent leaks near the leg openings
✔ Includes a tape on the back portion of pull-on for sanitary disposal
✔ Extra-long contoured lining for added protection in front and rear
✔ Low-profile design for reduced bulk
✔ Breathable material to promote skin health
✔ Wetness indicators to easily see when its time to replace
✔ Tear-away side seams for easy disposal
Reviews of the GoSupreme™ Pull-On Underwear
Major Design Improvement
"The GoSupreme™ represents a significant improvement in design and comfort. It is easier to put on, more comfortable to wear and gives a better feeling of security. It is a product I strongly recommend."
Overall Great Product
"A marvelous absolutely covers all necessary features product! Consider it the very best on the market and needed for such a long time! Be sure to give it a try quickly - you'll be glad you did!!!"
Love How They Work
"I have tried about every pull-on there is out there, even for women and these are one of the best I have used."
At NorthShore Care Supply we want to help you find the best product for your needs and we are confident that the NorthShore GoSupreme will offer excellent protection, comfort and fit. If you are struggling to find a highly absorbent disposable pull-on in XXL size we encourage to try a sample to see how it works for you.
If you have would like to request a free sample or speak with one of our care experts regarding product questions or sizing please call us at (800) 563-0161.
We're always happy to help!