5 Facts You Probably Didn't Know About the NorthShore™ Supreme Briefs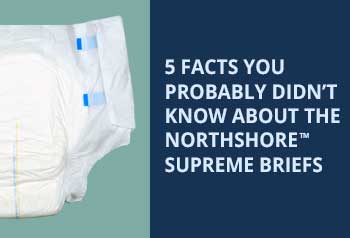 As fall approaches within the next couple of weeks, we will also be changing gears of our content by featuring our "Diaper of the Month" series where we explain some not-so-obvious facts about NorthShore products. Find out the 5 unique facts about the NorthShore Supreme Briefs below.
The NorthShore™ Supreme brief was NorthShore's first fitted brief. NorthShore has been one of the few online stores that have created their own brand of diapers and this one started it all for us. If you're currently using one of our line of products, know this one was the product that paved the way for others! Our founder, Adam Greenberg wanted to offer a higher absorbency adult diaper. An adult diaper that people were looking for but could not find in retail stores. The Supreme offers absorbency, more coverage, and a longer core, all features that were missing in store brand diapers.

The NorthShore™ Supreme was a featured product winner on the Family Choice Awards for children with special needs and seniors and adults. Family Choice Awards is an online consumer recommendation guide for products has been around for over twenty-two years.

The NorthShore™ Supreme is part of an ongoing style of tab-style briefs (poly backed or plastic backed) that NorthShore is continuing to offer while other diaper manufacturers in the industry are eliminating from their catalogs.

The Supreme is one brief with one of the strongest backsheets (known as outer shell) that we carry on the site. Diaper users typically have issues with sagging once the product has reached its full capacity but the NorthShore Supreme has a stronger backsheet for users to prevent this problem. One of our customers says, "I have tried out others brands like Tranquility, Wellness, Abena and store brands; but, overall these were a good fit, trim, extra padding and a white plastic backing and they get me dry all night long without sagging or leaking."

The Supreme is one of the fastest wicking diapers on the site. The super-absorbent polymers are really what makes this brief stand out. The wicking and design of the core help keep skin dry and prevents leaks. A user of the Supreme says, "I fly and drive across the country around 20 days of the month. I do not know how, but the interior of these are just superior. They have a quilted wicking that no other diaper has."
If you haven't tried the Supremes out then now you may be more willing to give them a try. Key features like the back sheet and the brief's wicking abilities are important things to consider when using an adult diaper. The NorthShore Supreme Briefs symbolize NorthShore's desire to improve the lives of people managing incontinence, which is what we're all about.