Puppy Pads Other Pet Incontinence Products You Need To Keep A Clean House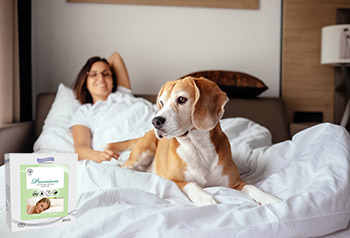 Pet parenting can be a joy, but dealing with incontinence can be just as stressful as it is with adults – whether you have a puppy or an older dog. NorthShore Care knows about pet incontinence. As for getting a handle on puppy incontinence or incontinence in older dogs, NorthShore Care has a broad selection of pet and puppy pads, both disposable and washable. They are a floor, furniture and stress saver.
Train Your Puppy with the Best Puppy Pads
Adding a new fluffy member to your family is very exciting, but once that puppy has its first accident, it isn't so fun anymore. Potty training your puppy can be a stressful affair and may affect your lifestyle by making sure your puppy gets out frequently or doesn't ruin the furniture and flooring. With pet pads and mattress protectors you can live stress-free knowing that your home is fully protected from any puppy accidents. NorthShore Care pet products make training your new puppy an easy, carefree process.
How to Handle Pet Incontinence While Keeping A Clean Home
As for older dogs, there are lots of medications that your vet can recommend. Most deal with urinary incontinence, which is the most common in senior dogs. According to WebMD, "Treatment for incontinence will depend on its underlying cause. Medications can often effectively manage this condition and prevent everyday accidents. Some treatments focus on hormone therapy, while others, such as phenylpropanolamine, strengthen the urethral sphincter, which controls urine flow. Surgery also may be an option if medication alone doesn't work. Collagen injections, a newer therapy for incontinence, appear to have promising results."
Mattress protectors are a great idea for those who sleep with their pets. We know the drill; you bring your pet home and say, "I will never let her get up on the bed. I'm going to be strong." Right. If you are like many dog lovers, your pet will not only get up on the bed but often sleep right next to you. With furniture, mattress protectors, you'll avoid any permanent damage. Plus, you'll find stain and odor control, gloves, and disposal bags.

And those accidents on your nice couch you just purchased? You have to use sprays like Urine-Off Multi-Purpose Spray that clean and deodorize urine and other waste. The spray can be used anywhere in your home. Spray on carpet, furniture and even on bathroom floors.
For a caring partner with a wealth of knowledge on incontinence supplies for pets (and people), call (800) 563-0161 or fill out our online sample request form.
We're always happy to help!