Announcing the Janibell® Akord® Adult Diaper Disposal System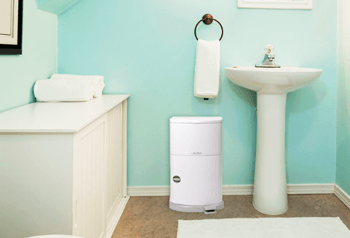 Did you know that the quality of indoor air can be 100 times more polluted than outside air? This can be caused by factors such as secondhand smoke, cleaning agents, paints, solvents, and other products that we use on a daily basis. Indoor air pollution can also cause allergies, asthma problems, and other respiratory problems. That's why it's so important to make sure your house is as clean as it can be, especially when properly disposing of incontinence products such as soiled adult diapers and pads. At home, it's essential to discard soiled incontinence products with the appropriate disposal bags and a reliable disposal system. Luckily now there is an adult diaper disposal system that can help keep the quality of air inside your house clean.
The Janibell® Akord® diaper disposal is specially designed for adults and provides 2 size options to accommodate various levels of waste. The 11-gallon size is the largest size available and can hold up to approximately 35 diapers. The 7-gallon size, known as the "Slim" size can hold up to around 24 diapers per load (Akord capacities based on adult diapers in the large size). We're happy to provide the Janibell® Akord® adult diaper pail and believe you'll be pleased with its unique features.
Unique Features of the Janibell Diaper Disposal System
1. Hands-Free - The product offers a foot pedal to dispose of soiled incontinence products, so you never have to touch the device.
2. Sleek Design - The product offers a modern look and finishes that appeal to any style.
3. Multi-Use - This product can feature as a regular garbage can in any area of the house.
4. Double-Seal Closure- This feature located on the top of the product allows for odors to be contained more efficiently, trapping in strong odors.
5. Economically Friendly - The liner refill procedure allows for minimal waste of liners. Liners are also made from 20% recycled materials.
6. Pleasantly Scented Refill Bags - The liners in the disposal bag offer an enjoyable smell to keep the area smelling fresh.
Indoor air quality can sometimes be compromised due to various factors. Make sure to use the appropriate disposal pails and disposal bags to keep waste contained. We spend so much of our time in our homes, the little things we can do to make our quality of life better can make the biggest difference. Let's make sure to keep the air clean for our well-being and the well-being of our loved ones.
If you have questions on these products please fill out our sample request form or call us directly at (800) 563-0161.
We're always happy to help!