The Two Most Commonly Misunderstood Incontinence Pads
Can you guess how many incoming calls NorthShore receives daily? Our Care Experts answer questions every hour of every day helping people get the right incontinence products for their needs. We develop very personal relationships with the people who use our products. So we asked our reps to provide their "most asked questions." Many times we hear our customers say, "I added a pad to the diaper for extra absorbency at night and it leaked out the sides."We found that when the customer uses a liner instead of a booster pad, they experience leakage. Are you using the correct product for your needs or the needs of your loved one?
Incontinence Pads Available: Liners & Booster Pads
A liner, also known as an incontinence pad or largely shaped pad, has a plastic backing. They come in a variety of shapes and sizes and are designed to be worn in regular underwear. The plastic backing is there to keep clothing dry. This type of product is designed to be used alone. Think of the liner as lining the inside of your underwear, it falls within the core of the underwear between the legs.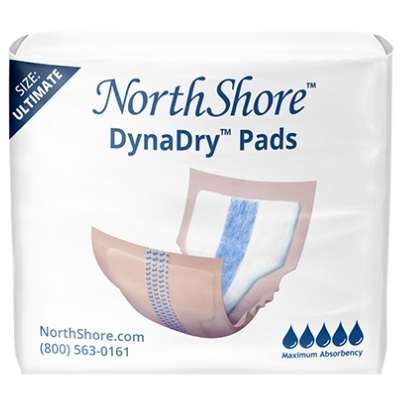 On the other hand, a booster pad, also known as a diaper doubler, is basically the same thing but without the plastic backing. This type of pad is designed to be used in combination with other incontinence products such as a diaper or pull-on disposable underwear. A helpful way to remember what a booster pad does is to remember it actually boosts the absorbency of any disposable undergarment. When urine touches the booster pad it "flows through" to the diaper allowing for the diaper to have held more liquid than it usually would be able to hold.
Advantages of Booster Pads
So what is the advantage of adding a booster? Additional capacity! There are two ways to get more capacity when you need it, either move up to a more absorbent diaper or add a booster. We find many customers stock a variety of products for various needs. At home, sometimes a lower absorbency product is used during the day when the bathroom is close and convenient.
At night or when away from home, either a higher absorbency product or a booster is the preferred solution. Adding the extra absorbency allows the wearer to sleep through the night and wake up dry. When out in public, a booster will provide that added security against embarrassing leaks.
Tip: You can add multiple boosters if necessary, just stack them as needed. The adhesive backing on the NorthShore™ boosters will help the boosters stack and stay in place. Wet boosters can easily be pealed up to remove and the diaper will still have plenty of capacity left.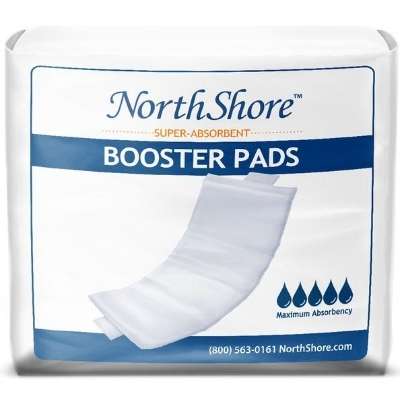 Advantages of Liners
What is the advantage of a liner? They are lightweight! Liners don't have the bulkiness of some fitted briefs and pull-ons. Individuals looking for a pad that is more absorbent than a store brand incontinence pad but are not ready for an adult diaper should consider a liner. Liners come in many sizes and shapes. Contoured options are also available in most brands that offer a better fit to hourglass bodies.
Tip: Liners can be great for individuals who have bowel incontinence and are not ready to transition into protective underwear or fitted brief. Liners such as the NorthShore DynaDry™ Supreme Liners provide additional protection in the rear to contain any bowel movements. If users feel the product isn't offering the required protection, then we suggest moving into a plastic backed fitted brief.
Here's a visual explanation of how booster pads and liners differ from one another.
So how many calls do we get? Over 3,000 a week. We encourage our customers to always call and ask questions. Remember, booster pads are meant only to be worn inside disposable underwear. Liners are designed to be worn inside regular underwear and have plastic waterproof backing. What pad will work the best for your needs?