NorthShore's Top 3 Male Guards for Summer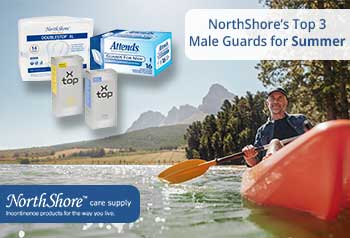 You might want to go to a concert, take a nature hike, or go a long weekend trip with close friends this summer. Like most types of activities, some level of preparation and planning is required. You may be part of the 25% of men that have urinary incontinence, but it's okay, there are products available so you can enjoy your summer. We want to mention our top 3 male guards that you can use this summer for whatever activities you end up doing while managing an overactive bladder.

Why they're great for summer
Cloth-like backsheet promotes breathability, helpful for warm climates

Super absorbent guard, so it can be used for long periods of time when you're out on long activities
Who is this guard ideal for?
Men with an active lifestyle that like to do strenuous activities managing heavy bladder leakage that requires them to wear a guard at all times of the day.

Why it's great for summer
It is the least invasive product as it is a pouch design, so you can adjust for the perfect fit.

It's easy to put on and remove during busy activities

It's discreet, so it can be used with loose or tight-fitting clothing
Who is this pouch ideal for?
Active men that like to do demanding work with very light bladder incontinence that require a product for added peace of mind.
Men that prefer a more form-fitting product for their protection rather than just a guard.
Why they're great for summer
They're the thinnest, most discreet guard that can be worn in briefs or any other close-fitting underwear. The guard folds flat before use.

They are less bulky out of all of our guards
Who is the guard ideal for?
Men with light bladder leakage that prefer a (cup shape) traditional guard shape.
Whether you take a hike, go fishing or attend a concert this summer, make sure you're leakage is covered. We offer an array of male guards that can help men of all ages and lifestyles. The NorthShore DoubleStop XL is our most absorbent guard so it will give you the most covered, the XTOP is our pouch guard that is known for its discreetness, and the Attends is our lightest guard to help men with the lightest dribbles. No one wants to be dealing with leaks in summer and you shouldn't. Get a guard that can keep you leak-free and worry-free.