Back to School Supplies Checklist for Kids with Bowel Incontinence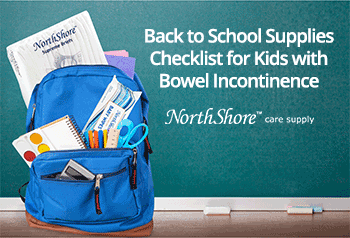 According to an article on NBCNews.com, last year supply expenses for elementary school students costs were approximately $650. For high schoolers, the supply list costs jumped to $1,000. Weeks leading to the first day of school can stressful and obviously expensive. Aside from the school supplies, some parents will need to include incontinence supplies on that list as well.
If you're a parent or guardian to a child managing bowel leakage, then you'll need the most reliable bowel incontinence products to keep your child clean, comfortable and dry during their day school. We have compiled a list of our top incontinence products that we recommend using for your child this school year.
Youth Diapers with Tabs
We recommend tab-style diapers for individuals including kids managing incontinence. We believe that the secure fit around the leg opening along with the leak guards included in most tab-style diapers helps prevent leaks. Here are two diapers in this style that we recommend:
Youth Diaper Covers
If your child's diaper has reached its full capacity then these covers will help to contain waste that escapes. Be sure to measure your current child's waist and hip in order for the product to work correctly.
Cleansing Wipes for Kids
Use stronger wipes that can clean up everything from solid bowel movements to diarrhea. We carry two sizes of heavy duty wipes you can use for your child of any age.
Diaper Disposal Bags
Having a reliable diaper disposal bag helps with odor containment and avoids embarrassment at school. Consider the following types of disposal bag for your child:
Extra Diapers and Change of Clothes
It may seem like a no brainer but be sure to send your child off to school with some extra diapers and an extra change of clothes: pants, shirts, socks, and underwear. Accidents can still happen and can get messy, so make sure your child stays as clean as possible throughout the day.
If your child is managing bowel incontinence then be sure to include the most trusted products to keep them having fun and most importantly, comfortable at school. Special diapers made for bowel incontinence include the NorthShore™ Supreme™ Briefs. Heavy duty cleansing wipes and diaper covers help with containment and cleanliness. If you need help finding the right size of diapers for your child then call us at (800) 563-0161. We're always happy to help!