The Incontinence Underwear That's Changing the Game for Men and Women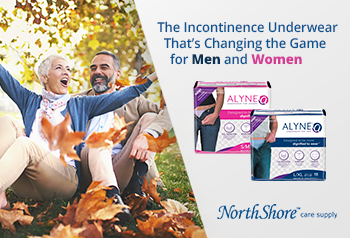 What are the features that you care about when selecting absorbent underwear? Are you managing light to moderate urinary incontinence and want to try a new brand of underwear other than Depend or Tena? This year we added Alyne Underwear for Men and Women to our pull-on underwear collection. We feel this new incontinence underwear could be a game changer for people with light urinary incontinence that are looking for more discreet underwear with full coverage protection.
A common concern our care experts hear from customers is that people want full protection as well as discretion when they're wearing the undergarment. Luckily, incontinence underwear (absorbent disposable underwear) is a style of undergarment where that is possible, unlike tab-style briefs that tend to show under clothing. Let's get into the features that make Alyne so special.
Features of Alyne Incontinence Underwear
Thinner design – 50% thinner than most store brand pull-on underwear on the market.

Patented Diamond-Quilt technology- The lining helps with continuous odor control & channels liquid evenly to prevent leaks onto clothing.

True to size fit – The low rise waistband fits closer to the body that fits like regular underwear.

Feels just like regular underwear - The soft waistband and the exterior of the underwear is sewn together softly without harsh edges like some other absorbent underwear have.

Discreet -According to reviews on Alyne's website people who've worn this underwear say the product does not show under clothing. It's overall thin design and material makes it a discreet pull-on without bulk in the (middle) core of the product.
Not all absorbent underwear is created equal and some of the common absorbent underwear brands don't work for everyone. Luckily, there are companies like Alyne that are creating products that offer protection, comfort, as well as functionality. There are incontinence products out there that will give you security, confidence, and protection. Try Alyne today and see for yourself!