6 Signs It's Time to Change Your Current Incontinence Product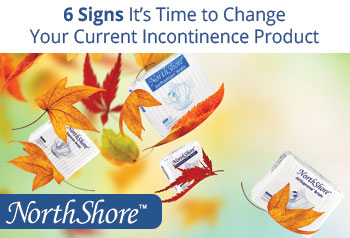 Do you currently use adult diapers, pads or liners? Have you noticed yourself feeling uncomfortable when you're out in public when wearing these incontinence products? In a little over a month, we'll be getting into fall. Like the leaves change their colors during this season, so do people's incontinence needs change as well. There are certain signs that mean it's time to change your incontinence product.
Let us explain the 6 signs so you can get into a better product, fast!
When You Know It's Time for New Incontinence Product
Visible signs of leakage on clothing – Noticeable spots on your clothing and/or underwear.

Overly saturated product - the pad, adult diaper, pull-on underwear is visibly wet and overly sagging.

Discomfort when sleeping, standing or sitting with incontinence product – This means the size and fit of your current product are incorrect and you'll want to re-measure yourself again or chose another style.

Skin irritation/chaffing (typically in the inner thigh area or hip area) – If you're using adult diapers with tabs then you might not be wearing the right size. Re-measure your hip and waist to see if you're in the correct size. You shouldn't feel uncomfortable when wearing an incontinence product.

Irritability or anxiety when using your current product – Your body doesn't lie to you. Trust it. If you're constantly worried about leaks or feel anxious when using your product you probably need to consider a new one.

Less time sleeping – The worry, the constant tossing and turning, and wetness all come together to result in lack of sleep. Your sleep is important to your well-being and shouldn't be deprived. Make sure to find a product that will allow you to sleep throughout the night and keep you dry.
Other Ways to Find the Best Incontinence Product for Your Needs
Call the experts - You might need more protection than you need or vice versa. When you call us, be sure to include all the details and your current waist and hip measurements so we can recommend a product based on your specific needs. Recent changes in diet, medication, lifestyle or other medical conditions affect your body and sizing of incontinence products.

Request free adult diaper samples of adult diapers or other incontinence products - We do not offer samples of the washable products but we do carry most of the disposable products listed on the site. Call us so we can send you some samples to try before buying!

Read our other informational blogs to guide you along the way: Measure Yourself for Correct Diaper Sizing, 6 Essential Tips for Selecting the Best Adult Diaper and Incontinence Product Shopping: Tips for Getting the Best Products for Your Needs
You shouldn't have to deal with incontinence products that don't work, repeated leaks or sleepless nights. Get the sleep you deserve, with dry clothes and dry sheets. Have a more relaxed state of mind with the right products. Remember we're here to help and we're always happy to do so!