6 Clear Signs It's Time For New Incontinence Product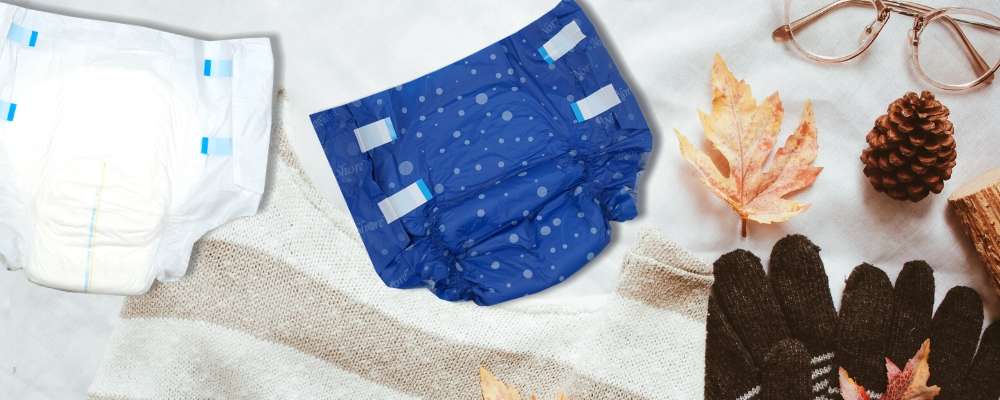 Do you currently use adult diapers or other incontinence products? Have you noticed yourself worried about leaks when you're out in public? It may be time to try a new product. A product that worked at one time may not work anymore today. Incontinence needs may change due to illness, surgery or other life events. Stay informed on the signs when you may need to make the switch to another style, size or type of product. Learn about the 6 signs so you can get into a better product and added peace of mind.
When You Know It's Time for New Incontinence Product
Visible Signs of Leakage – Noticeable spots on your clothing and/or underwear indicate the product is not fitting correctly.

Wetness & Sagging - Overly saturated incontinence pads, adult diapers, or pull-on underwear may indicate the individual's product may not be absorbent enough for their needs.

Discomfort - This indicates the size and fit of the product are incorrect and you may want to measure yourself again or choose another style.

Skin Irritation/Chaffing (typically in the inner thigh area or hip area) – If you're using adult diapers with tabs then you might not be wearing the right size. Measure your hip and waist to see if you're in the correct size. You shouldn't feel uncomfortable when wearing an incontinence product.



Irritability/Anxiety – If you're constantly worried about leaks or feel anxious when using your product, consider a new one.

Sleeplessness – The worry, the constant tossing and turning, and wetness all come together to result in a lack of sleep. Your sleep is important to your well-being and shouldn't be deprived. Make sure to find a product that will allow you to sleep throughout the night and keep you dry.
Tips for Finding the Best Products
Call the Experts - When you call a Customer Service & Team member at NorthShore, be sure to include important information such as the type of incontinence you're experiencing and your current waist and hip measurements. This will allow representatives to recommend a product based on your specific needs.

Request Free Samples - We carry most disposable products and incontinence supplies listed on the site. NorthShore offers a variety of protective underwear, incontinence briefs and other absorbent pads to help individuals stay dry.
Adult Pull-Ups with Special Sizing
NorthShore offers adult pull-ups in higher absorbency levels and sizes. Individuals with heavy bladder leakage who are looking for an absorbent pull-up should consider FlexSupreme Pull-On Underwear.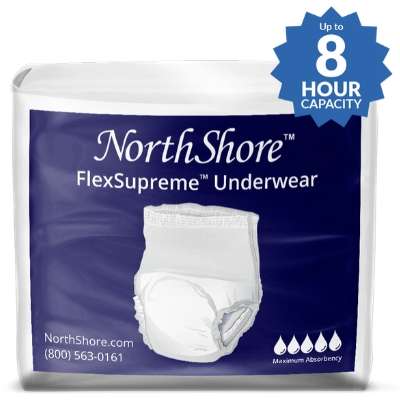 Larger leg openings offer a secure fit those with thicker legs/thighs

Flexible waistband

Microsorb lining for quick wicking of wetness

Tall leak guards for added security

Up to 8 hours of protection
GoSupreme Pull-On Underwear is another top-seller on NorthShore, offering protection and comfort to those with bladder leaks and bowel incontinence.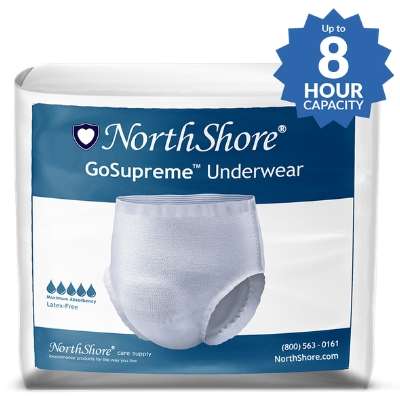 Smaller leg openings offer a secure fit for those with thinner legs/thighs

European fit offer body-close elastics

Dual leak guards

Extra-long contoured lining in front to the rear for bowel containment

Up to 8 hours of protection
There are incontinence care products today such as the NorthShore FlexSupreme and GoSupreme that offer protection and special sizing. Individuals shouldn't have to use incontinence products that don't work, repeated leaks or sleepless nights. Get the sleep you deserve, with products that work. Remember we're here to help along the way.
Starting At: $26.75 FSA/HSA Eligible
Top Seller
Starting At: $27.75 FSA/HSA Eligible
Please login to access your saved items list. If you don't have an account, create one today to start your list.