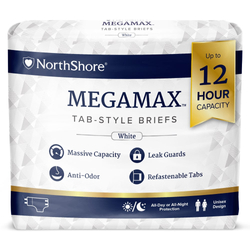 NorthShore MEGAMAX 2XL Tab-Style Briefs (As Is, No Returns)
NorthShore Item:

1660
Model:

1658
Sold As-Is, No Returns - See Disclaimer for Details
Up to 12 hours of massive absorbency and wicking ability. MEGAMAX Briefs, Size 2XL fit waists 60 - 76 in. and feature an extra-wide, extra-long absorbent core for added protection for restless sleepers. Available in heavy-duty plastic and breathable cloth-like backsheets.
DISCLAIMER: Known quality issues with fasteners not staying secure. MEGAMAX 2XL are sold as-is, no returns. All other features, including absorbency, are the same quality as other MEGAMAX sizes. Improvements to 2XL briefs are planned to be available mid-2023.
Customize Your Own Case & Get 10% Off!
Choose 4 or more packs of adult diapers in any style or color!
---
NorthShore Tab-Style Brief Comparison Chart
Which one will you choose?
Customer Reviews / Questions & Answers
Please login to access your saved items list. If you don't have an account, create one today to start your list.